Nile Rodgers, Chic Offer Free Concert Tickets to Furloughed Fed Workers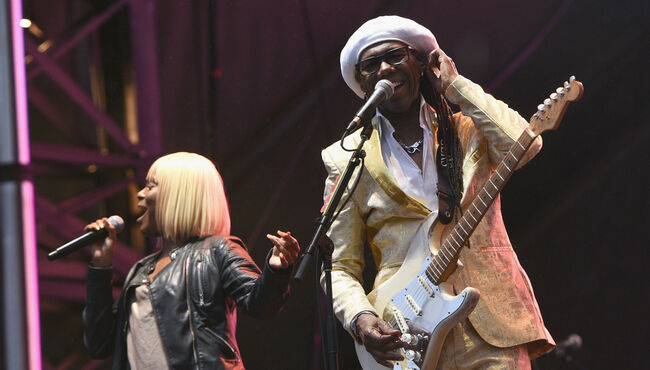 Pop and disco greats Nile Rodgers & Chic are giving away 600 free tickets to their upcoming gig in Washington D.C. to government employees who are either working without pay or furloughed during the ongoing partial shutdown of the government.
Rodgers & Chic are coming to the MGM National Harbor in Maryland on January 26. Fed workers interested in taking advantage of the offer can register here.
The first 300 applicants will each receive two tickets to the show.
"If you are one of the 800,000 federal government workers who has been furloughed or is forced to work without pay, Nile Rodgers & CHIC would like to help you 'leave your cares behind' for a few hours," read a statement announcing the giveaway.
Rodgers is a legendary producer and guitarist. The Rock and Roll and Songwriters Hall of Famer wrote massive hits like "Good Times" and "We Are Family," and he co-produced dozens of hit albums, including David Bowie's Let's Dance.
"Like many people, I'm frustrated by what's happening and my heart goes out to these incredibly hard-working people who provide important service to our country, yet have had their lives disrupted by circumstances not of their doing," Rodgers said.
He continued: "As a two-time cancer survivor, I believe music has a tremendous power and this is a small gesture I can make to provide some joy and healing. In one of my biggest songs I wrote, "We are family, I've got all my sisters with me". I consider all of these people to be my brothers and sisters and I hope this lets them know that we are 100 percent behind them."
The D.C.-area show is part of a series by Rodgers & Chic in which every song in the set is a Top 10 or No. 1 hit song!
Get all Nile Rodgers & Chic tour dates here.
Photo: Getty Images